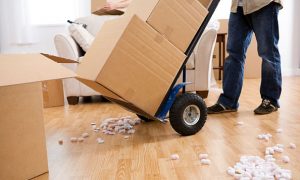 Backloading Removals: Cheap and Best Service for Removals
People look for affordable removal services so that they do not face financial burden. But sadly, many removal services quote high amounts for their services. In this condition, backloading removals are best to opt for.
Backloading removals mean trucks carry your goods on the return trip to depot.
Trucks are usually hired for dedicated moving service and on their return trip, they are usually empty.
Transporting goods in the return trip can maximize the trucking company's benefits and hence they offer backloading removal services. Since these are not dedicated trips, they are offered for cheap rates, sometimes as low as half of the conventional moving service rates.
Backloading removals are offered for cheap rates for the following reasons.
If you opt for dedicated removal services, then you will be charged for the entire truck space.
Even if your goods do not occupy the whole truck, you still have to pay for the entire space.
The charges are also levied on the assumption that weight of all the goods is equal to the payload of the truck. In reality, if your goods do not weigh as much as the truck's payload, you still have to pay the entire amount.
As you can see, there is much wastage of money when dedicated removal service is opted for.
In backloading removals, you only pay for the space your goods occupy and their weight. The rates are even slashed since it is a back trip to the depot. So you will be saving considerable amount on backloading removals.
To hire backloading removals, you should pursue the trucking company 7 to 10days prior to your moving.
They can assign a truck then which will be on the return trip on your moving date even if you are backloading sydney to brisbane
Backloading removals are quite affordable and they make every bit of sense for the people who look for "Value for Money" service.