What made you move to Melbourne ?
So you've decided to move to Melbourne?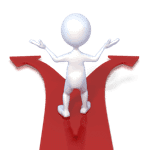 So you have packed your boxes, booked in wemove and organised your transportation, you have begun the exciting journey of relocating to Melbourne.
Melbourne is an exciting city with much to see and do, if you have never been here before it can seem a little overwhelming at first especially if you are moving from one of Australia's slower cities.
A few things to consider once you decide to move to Melbourne include:
Accommodation: do you plan to rent or buy? Either way you will most likely find that you will need some temporary accommodation whilst you undergo the process of finding a permanent place to live.
Temporary accommodation can be as simple as moving into a caravan park or hotel and having your removalist drop your stuff off at a storage centre until you find a permanent place.
Another option is booking a holiday rental, this will allow you to accommodate yourself and your family in a house that you can pay for weekly without signing a lease, whilst you search for a place that you can make your home.
Getting around: Are you bringing your car? Driving in Melbourne can be different to driving in other parts of Australia especially in the city centre, watch as the traffic creeps forward just before the lights turn green and cars perform u turns from the left hand lane!
If you are new to driving in Melbourne it is best to get in some practice in some quiet back streets before trying to tackle the full blown city traffic! If you are not bringing your car never fear, as Melbourne has some of the best and most reliable tram services in the world, getting around Melbourne including the city and the suburbs via public transport is an easy, cheap and reliable option.
Seeing the sights: Melbourne has a huge amount of things to see and do, so don't be surprised if you feel like a tourist for quite some time before you settle in to being a local.
Start your life in Melbourne by enjoying its top attractions including Luna park, docklands and the cosmopolitan city centre! The more you get out and about and experience this glorious city the sooner you'll be speaking the lingo and living your life Melbourne style!
Moving to Melbourne from anywhere is an adventure of a life time! The best thing you can do before you leave is to do your research and head off with an open mind, Melbourne will be home before you know it!